Hire offshore Android Developers in India at Quintet Solutions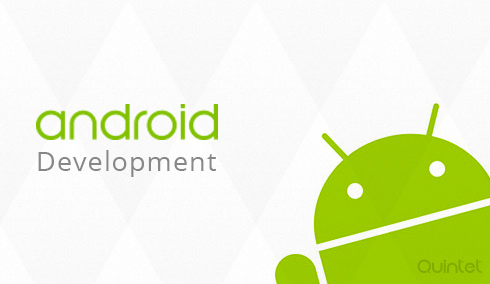 Ever since its acquisition by Google in 2005, Android has been on an exponential growth curve that currently place them as one of the leading Operating System in the market. From being an OS designed for smartphones and tablet computers, Android now runs on televisions, automobiles and even wristwatches. Due it its open source licensing, there are many manufacturers that use Android as a foundation for its products, thus making sure that the end user has plenty of different flavours to choose from. Google introduced Android Market (now play store) 6 years back and it now hosts more than 1 million applications that can be directly installed to these end user devices. We have designers and developers with plenty of skill and experience of several applications behind them. Having created applications for initial Android releases like Eclairs and Froyo, we grew side by side with Android and now write applications on latest releases like Kitkat and Android L. Our designers are familiar with different UI modifications with each Android versions and can design accordingly. We even have experience in working with rooted Android devices and system level customizations.
Android offers rich, extensive user interface along with smooth touch based navigations with support for real world gestures like swipe, pinch etc. Built on top of robust, durable Linux kernel Android enhances the user experience to a new level with its responsive user interface. Since Android is open source, there is a vast, knowledgeable community that works day and night to create new features and improve existing ones. Google offers SDK to encourage developers to write application level softwares that can be downloaded via Play Store.
Android Application Development Services at Quintet
We have designers who are creative, skillful and experienced in designing Android apps. With numerous successfully completed apps in our portfolio, our android mobile app developers are fully-equipped with the latest technology and are very keen and enthusiastic to take up more challenging tasks. They are familiar with all native SDK features and popular 3rd party libraries. They are very quick to learn new things if need arises too.
At quintet we have been developing apps for Android since the early days of the platform. Today we can proudly show that our Android Application Development has expanded to the below categories
Image optimization for web compatibility using Photoshop
Apply various effects easily using Photoshop
Speeds up the editing process of your images using Photoshop
Saves Time
Get consistent results
Create the logo of your choice according to your taste and your Company's visual branding image
Get those perfect images made or sliced from your PSD to put in your website.
Image perfection will increase the reliability and reputation of your site thereby increasing more customers and traffic flow towards your website.
Hire Photoshop Experts in India
Quintet Solutions offers offshore Photoshop Services in India. Our Designers are Photoshop experts who will be dedicatedly at your service. We are also Proficient in
Books Category Android Application Development
Business Category Android Application Development
Catalogs Android Application Development
Education Android Application Development
Entertainment Android Application Development
Finance Android Application Development
Food & Drink Android Application Development
Games Android Application Development
Health & Fitness Android Application Development
Lifestyle Android Application Development
Medical Android Application Development
Music Android Application Development
Navigation Android Application Development
News Android Application Development
Photo & Video Android Application Development
Productivity Android Application Development
Reference Android Application Development
Social Networking Android Application Development
Sports Android Application Development
Travel Android Application Development
Utilities Android Application Development
Weather Android Application Development
Why choose Quintet Solutions to Develop your Android Applications.
Fastest turnaround time
Highly Experienced Android developers and Android Project Managers
We Develop Interactive and easy to use apps
Source code security with non-disclosure agreement.
Separate Application testing Department for giving clients a bug free application.
Cross device functionality across android devices.
Enhanced user experience.
On time deployment of application.
Cost effective application development.
Android Development Process at Quintet
We analyse your company's business objective
Then we Visualize and Conceptualise the mobile application considering the target users, competitors and future developments.
This is followed by a several brainstorming sessions with the Product managers and Senior managers to design the workflow of the Android application.
Now the developers and testers come in to action. They make sure the code is robust and is as per the guidelines laid down by Google's Play store
Finally we upload the mobile application into the app store as an enterprise application or as a downloadable application, based on your requirements.
Android Game Development in India
With Android devices becoming faster and cheaper, Android Game Development is an area we can't afford to miss.
Our team of experienced Android game designers and game developers will help you to conceptualise and create games that fall under any of these categories -casual games, quiz and puzzle based Android games.
Our Android game development team is always on the look out for creating the most amazing android games, which happens to be their craze and passion. Our design team creates world class art which displays unique game characters and they give a lot of attention to detail on each and every aspect of the game and make sure everything and every item in the design is pixel perfect.
Our Android game developers can merge a variety of SDKs into your game depending on the goal.High performance graphics, bug free coding, strong core game mechanics and extensive testing are what we can offer the clients.
Our Service simply doesnt stop there ,Other than game development, our Art team can support you with the marketing items that you need for publishing and marketing your games as well. We are referring to banners, rich screen demos, in game videos and animated banners.
We understand how the the ranking on the top performing games at the Play Store works and we will make sure that your app reaches on the Top of the charts by using the correct techniques.