ExpressionEngine Development Services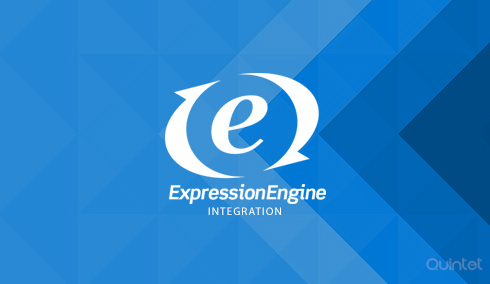 ExpressionEngine (EE), is a multi-purpose content management system. Expression engine is popular for its ease of use, even for a person ignorant about PHP on which it is developed. The user interface is designed to make website and content management as easy, simple and user friendly as possible, without sacri?cing the power of the platform. When you compare ExpressionEngine with other content management systems, EE has proven itself as an all round solution providing robust CMS engine with an e-commerce and forum feature included. It has every aspect needed for dynamic web development along being easy on budget. Notable companies that use EE as their web solution include Apple, Sony, Disney, Nike, Ford, and Cisco.
ExpressionEngine Development Services At Quintet
Quintet is leading, professional web consulting firm providing website design and web application development services. Our expert programmers and Expression Engine Experts work closely to pick the best themes, plugins and scalable architecture during the design phase of the project. Quintet's expertise also includes ExpressionEngine website setup and development, ExpressionEngine customization, ExpressionEngine multi-site development, ExpressionEngine website redesign, ExpressionEngine website maintenance etc.
We undertake following ExpressionEngine development activities
ExpressionEngine website setup and development
When you decide on developing your website on ExpressionEngine you are investing in power and flexibility, security, and portability across all platforms. We can have your website developed on ExpressionEngine with all the feature requisites. We are very well capable of meeting your off the shelf business needs and building custom plugin modules or components. Just give us your requirement and we will work on the customization and development of add on features for the EE project.
ExpressionEngine multi-site development
You can create and manage multiple websites from a single installation of ExpressionEngine. The existing domain, sub-domain or both can be used, and each site may have different preferences, layouts or templates. We can leverage a single ExpressionEngine installation across multiple internet properties. Quintet helps you to figure out the best way to implement this efficiently.
ExpressionEngine website redesign
We provide services in redesigning ExpressionEngine. Tasks like changing a single element common to all pages (or a section of pages), changing a single element on just one page, changing the layout of an entire page or section or even changing the design of an entire site can be made possible with our team.
ExpressionEngine plug-in / module / extension development
We develop most sophisticated plugins,modules and extensions for expression engines as per your needs and requirements. Feel free to contact us any moment.
Using ExpressionEngine we can implement your shopping cart
We can also integrate your videos and galleries
Third Party Integration with ExpressionEngine is possible
Set up ExpressionEngine over Amazon EC2
ExpressionEngine Google Organic keyword tracking
Pixel perfect PSD to ExpressionEngine development
Migrating from WordPress to ExpressionEngine
ExpressionEngine upgradation and Website Optimization