HTML5 Development in India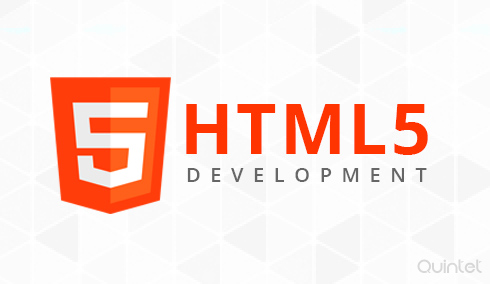 HTML is the heart of the internet. With an the best coding processes in place, HTML5 propelled the creation of impressive cross platform website compatibility. Even though finalization of HTML5 standards is a continuous effort by a set of IT units, a couple of its aspects have been adopted by various browsers like Firefox , Safari, Google Chrome and IE9. Some of the notable features which HTML5 introduced are ability to draw on a canvas, playing videos, design better forms, geolocation, build web applications that work offline and more. Much like HTML5, the current CSS3 offers vast improvements over the previous versions. It introduces many exciting new functions and features like the ability to use rounded corners, animations and multiple backgrounds among other features. Quintet is an established HTML5, CSS3, JavaScript development company based in India having huge experience in developing Rich Internet Applications that conform to web 2.0 standards for the desktop as well as mobile platforms. These modern technologies allow creation of more advanced graphics, typography, animations and transitions.HTML5 is a big leap towards a better user experience for users on multiple platforms like PCs, Tablets and Smart Phones. Being simple, It is very appealing to web developers and users alike.
In our technologically and visually sophisticated society, access to information and knowledge seems easier on the web. The pages and applications are built to present and put data or relationships in context. This is where html comes into action. Being visually attractive and user friendly is very important. We specialize in making responsive design for your website so that it will fit perfectly in any browser and on any mobile device irrespective of the resolution.
HTML5 Development Services at Quintet , India
Services & solutions
| | | | |
| --- | --- | --- | --- |
| HTML5 Consulting | HTML5 Website Development | Custom HTML5 Design | HTML5 Web App Development |
| Responsive Design | HTML5 Mobile App / Web Development | Cross-platform Development | Data Migration |
We provide the best and most innovative HTML5 development services on the market. We are known for creating high performance, feature-packed HTML5 based cross platform experiences.
Our HTML5 based solutions are secure and sustainable that they can be easily maintained and scaled as and when needed. We use HTML5 based tools and frameworks to function seamlessly on and across any device or software platform.
Responsive Design
The best way to explain responsive is to look at our website http://quintetsolutions.com. Open the website in a new browser window and then try changing the browser window's width. As it gets smaller you will be able to see that the website changes to a different version for that particular browser size. You will notice it gets automatically reorganised on different devices based on screen size. We do recommend to have responsive websites to reach broad range of users which will definitely bring more hits.
HTML5 Website Development
Our skilled developers convert designs into hand coded browser compliant code. We are using the latest tools including HTML5/CSS3, Modernizr etc to create high performing front-end assets that work on all types of browsers and devices. Our experience in CMS systems has made HTML/CSS architecture to ensure that our services are modular and re-usable.
HTML5 Mobile Development
Now a day's people commonly use mobile devices to access content on the web. We understand how to establish a content strategy that takes mobile development into account from the beginning. We offer a proven, flexible engagement model that starts with an evaluation of your requirements. To meet your goals and deadlines the right HTML5 mobile app development solution will be delivered both quickly and cost effectively.
Quality Assurance for major browser-OS combinations
There can be a seemingly endless list of browser/Operating system combinations that could be supported in a website designed for public use. We offer quality assurance for multiple browsers, devices and operating systems to ensure the latest web standards.
At Quintet we are also proficient in
HTML5 Boilerplate
HTML5 Kickstart
Twitter Bootstrap
Foundation
Gumby
Skeleton
960 Grid System
Sproutcore
Montage
52 Framework
Zebra
With great development interest and years of experience in CSS3, HTML5 and Javascript, our HTML5 development department has built beautiful web applications for mobiles and desktops.
High Quality HTML5 Work from a dedicated HTML5 team
Cost Effective
Time Delivery of Project which is completely tested and 100% bug free.
Best Coding practices are used for the development of your project.
Benefit from our specialized skills which we have spent years in research and practice.
HTML5 Development Frameworks we use at Quintet are
JavaScript MVC for Web Application Development and Mobile Web Applications
PhoneGap for Cross Mobile Application Development , iphone , android , etc.
Sencha Touch for Mobile Web Applications and Mobile Sites
JQuery Mobile for Mobile Web Applications and Mobile Sites
Titanium Appcelerator for Cross Mobile Application Development , iphone , android , etc.