Hire offshore iOS Developers in India at Quintet Solutions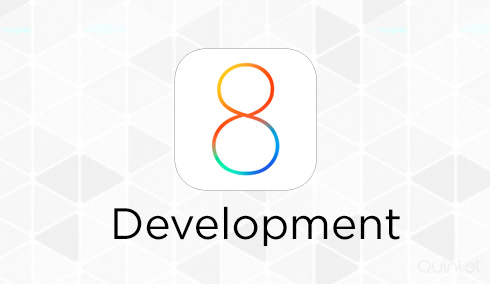 We are one of the leading iPhone app development, iPad app development and Mac development companies located in India. We succeeded in creating numerous iPhone apps for our clients and got them reviewed and approved by Apple's App review board thereby getting them listed in the app store. Our customer base is spread around the globe and at Quintet we have been offering wide range of custom iPhone app development services. Our developers possess years of experience in iOS Development which enable us to develop impeccable apps and our designers give their best to deliver pixel perfect products.
We offer iPhone and iPad development services from conceptual design to implementation, quality control, release, upgrades and maintenance.
Highly Experienced iPhone app developers.
We have handpicked some of the best talents in this industry and they have been with us since over 7 years constantly sharpening their skills and serving our customers.
Top World class user interface designers.
The UI/UX designers we have, possess solid experience in their domain. They make sure their creations are not just usable but they make the user experience pleasurable. They go to great lengths just to make sure their designs are pixel perfect, and tune in with the latest Design trends. Deep analytical thinking and research is involved in this process of designing the best user experience.
Source code security
You wont have to worry about your source code . It is safe and secure with us. We have a non disclosure policy for our clients.
Guaranteed bug free application after final level testing
This is another area we are very serious about. Testing an app is as important as any other phases of the product development cycle. Our testing team will do rigorous testing at each and every single phase , they spend hours ,days and weeks over the apps for testing it just to make sure they are 100% perfect.
Guaranteed approval on appstore.
We will make sure your app reaches the app store. We treat the app store guidelines as our development bible . We are thorough with all the rules of the app store and we keep them all in mind in the conception , development and deployment stage. Our Coding is as per app store guidelines.
On time development and deployment of app.
Once we commit a timeframe , we stick by it. Timelines are our thing. Our Project Managers make sure you have your product in the appstore on the timeline or before the due date.
Cost effective application design & development.
Quintet Solutions is located in India and here we can offer competitive rates for the services we offer. Delivering your solution in the right time for the right cost is our aim. We are bound by NDAs for most, still we will be able to show you some of our works which we are permitted to, to let yourself make sure you are at the right place. Just get in touch with us.
iOS Development / iPhone Development / Mac Development / iPad Development Services in India
Our developers work with a creative team of graphics designers and UX designers to deliver the best solution possible. Its not just creating the app, but we take special interest in making sure its updated and keeping up with the latest iOS or android releases. It's after foreseeing future enhancements, the solution is designed and we will be at your service to make your application rich with new features that are added in the respective mobile operating systems.
What is iOS and what's new in iOS 8 ?
Mobile apps for iDevices are written and compiled specifically for iOS. Apple provides us with the following components to create an app : iOS SDK, stable API and IDE(Xcode). iOS is mainly programmed in Objective-C, in some cases C and C++. Recently, in WWDC 2014, Apple introduced a brand new language – Swift – 'Objective C without C' to program iOS. The changeover from the initial version to the current stable version has been evolutionary. iOS looks scary in the beginning but its very easy and friendly in all perspectives. iOS 8 has more added features : Battery usage indicator, New Keyboards, New camera features, Interactive notifications, The unnamed version was released on June 2007, and was given the name 'iPhone OS' by March 2008(beta). iPhone OS was rebranded as iOS by Apple by June 2010. The current stable version is 7.1.2 with beta version of iOS 8 being available for the developers. Let us help you build your iOS 8 compatible iPhone/iPad application.
Our iOS Design & Development Process
We analyse your company's business objective.
Then we Visualize and Conceptualise the mobile application considering the target users, competitors and future developments.
This is followed by a several brainstorming sessions with the Product managers and Senior managers to design the workflow of the application.
Now the developers and testers come in to action. They make sure the code is robust and is as per the guidelines.
Finally we upload the mobile application into the app store as an enterprise application or as a downloadable application, based on your requirements.
We specialize in all of the following areas of iOS Development/iPhone Development/
Mac Development/iPad Development Services in India
Books Category iPhone App Development, iPad App Development & Mac Development
Business Category iPhone App Development, iPad App Development & Mac Development
Catalogs iPhone App Development, iPad App Development & Mac Development
Education iPhone App Development, iPad App Development & Mac Development
Entertainment iPhone App Development, iPad App Development & Mac Development
Finance iPhone App Development, iPad App Development & Mac Development
Food & Drink iPhone App Development, iPad App Development & Mac Development
Games iPhone App Development, iPad App Development & Mac Development
Health & Fitness iPhone App Development, iPad App Development & Mac Development
Lifestyle iPhone App Development, iPad App Development & Mac Development
Medical iPhone App Development, iPad App Development & Mac Development
Music iPhone App Development, iPad App Development & Mac Development
Navigation iPhone App Development, iPad App Development & Mac Development
News iPhone App Development, iPad App Development & Mac Development
Photo & Video iPhone App Development, iPad App Development & Mac Development
Productivity iPhone App Development, iPad App Development & Mac Development
Reference iPhone App Development, iPad App Development & Mac Development
Social Networking iPhone App Development, iPad App Development & Mac Development
Sports iPhone App Development, iPad App Development & Mac Development
Travel iPhone App Development, iPad App Development & Mac Development
Utilities iPhone App Development, iPad App Development & Mac Development
Weather iPhone App Development, iPad App Development & Mac Development
Mobile developers here at Quintet, have been in iPhone/iPad development field for years and have several successful apps in the store to their credit. They are very well versed in iPhone-supported technologies, and all its inbuilt features including accelerometers, location services and Multi-Touch interface. They are proficient in :-
Objective C (obj-C)
Xcode IDE & iOS SDK
Cocoa Touch
SQLite, Core Data, XML/JSON, SOAP, Rest API etc
Location Based Services (LBS) – Location services (Core Location) & Maps (Map Kit)
Enhancing user's experience of Location – iBeacon, GPS and Navigation system
Gesture Recognition – Tap, pinch, rotate, swipe, flick, zoom in-out, multi-touch
Communication – Core Bluetooth, Air Drop, Pass Kit, iCloud
Analytics – Google Analytics, Flurry Analytics
SQLite, Core Animation, XML/HTTP
Graphics & Animation – Core Animation, OpenGL ES, Core Image, Quartz 2D, PDF rendering
UIKit Dynamics & Motion effects
Audio & video Technologies – Audio (Media Player, AV Foundation, OpenAl & Core Audio), Video (Core Media, AirPlay)
UIAccelerometer & Core Motion
IMPS (Wireless Village 1.3)
Socket Programming