Moto 360 Watch Development Services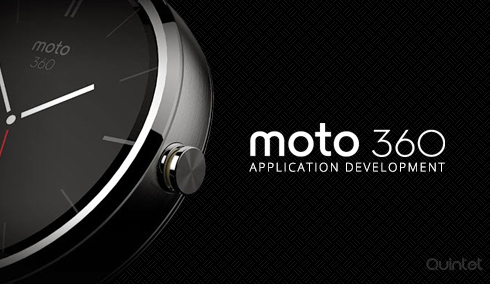 Android Wear was a big part of Google I/O 2014 this year, and Google is encouraging developers to promote wrist – borne android apps. Google has taken wearable technology seriously and sees it as a revolutionary technology. Moto 360 is the Motorola's initial entry into the era of smart watches. The heart of Moto 360 is Android Wear. This means that it has a lot of interesting features and connectivity which android has to offer. It helps you link your entire online world to your wrist. With its predictive features such as showing you the weather, or any upcoming event you are always on the loop of anything thats going on around you. Stay in touch with your office or friends through emails and chats, all these without even having to take your phone out of your pocket. The best part of all this is, you wouldn't even have to touch your moto 360. You can do all this by using your voice.
Moto 360 is one of the best looking android watches available in the market today. Motorola claims they have used the best possible materials for making this watch like stainless steel and leather. This will definitely impress a lot of Watch enthusiasts and people who want a faster access to the online world. The earlier we can create apps for moto 360 , the earlier we can gain market share with our apps.
Moto 360 Development Services by Quintet
Quintet Solutions offers offshore developers for Moto 360 to develop applications running on Moto 360, extending functions of apps already present on Android devices to Moto 360 and also develop watch faces as needed for your watch form factor, with the help of our highly expert designers.
Who doesn't love a watch ? Watches are fashion statements and when we add an X factor, it become even more enchanting. Moto 360 is an Android version torn down to suit needs of a wearable device. Moto 360 organizes your information, suggests what you need, and shows it to you, before you even ask. Get messages from your friends, appointment notifications, and weather updates at a glance. You'll see notifications from all your existing Android apps on your Moto 360 and useful new wearable features are being added all the time. Moto 360 connects your phone to your wrist. At Quintet Solutions we understand this purpose and we can make your apps ready for Moto 360.
Another aspect of Moto 360 will be Health and Fitness. Quintet's Android Wear Developers will be able to use this information available from the Moto 360. Moto 360 introduces new sensors and that give new information and our Android Wear Developers will be able to use these new informations and use them creatively for your Moto 360 App. Our Android Wear developers are developing moto 360 apps using Android Wear SDK.
Hire Moto360 Designers at Quintet Solutions
Designing apps for wearable devices powered by Android Wear is substantially different than designing for phones or tablets: different strengths and weaknesses, different use cases, different ergonomics. Android Wear Designers here at Quintet Solutions, India possess in depth knowledge about these points, will be able to get your app for Moto360 designed for perfection.
Wearables, with no doubt, will be the next big thing, and Android Wear will definitely play a huge role in this. Our team of Android Wear Developers and Designers are already working with Android Apps that will be able to sync notifications to your Moto 360. Android Wear also support Voice Actions and our Android Developers are already working to have this integrated to apps.
The moto 360 is equipped with a 9- axis Gyro/accelerometer/compass, pedometer, Optical heart rate monitor, bluetooth connectivity etc. We at Quintet are able to exploit all its available features and create apps for you. We can create wonderful watch faces in the round (320 x 320) resolution.