Samsung Gear Live watch Development Services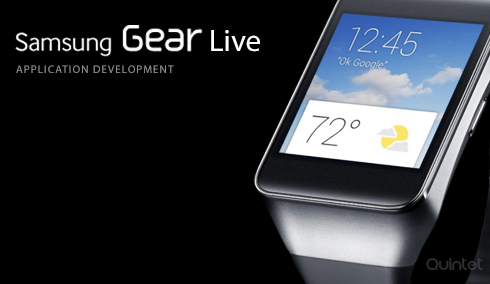 Samsung gear live is the next thing in the samsung wearable eco system and the first Android Wear device from Samsung. Samsung gear Live is compatible with all smart phones running on or above Android 4.3 Jelly Bean. Like most android watches 'Ok google' is one of the smart features it has. Simply say 'Ok google' and your voice will drive the device. At just a swipe of your finger you will be able to see your notifications, making it easier to check your messages and mails. Keep in touch with your colleagues, friends and family with your mail and chat app. All this can be done without even touching your phone and by just using voice commands.Samsung gear live is a very popular device which has just entered the market. You will be able to cash in on this latest market because it uses Android Wear SDK and its released for developers. You can be one of the early birds into this market and tap the full potential of this market.
Samsung Gear Live watch Development Services by Quintet
Quintet Solutions offers offshore developers for Samsung Gear Live watch to develop applications running Samsung's Gear Live . This extends functions of apps already present on Android devices. Watches are a great style statement and when we add the extra X factor to our apps, it becomes even better. Samsung Gear Live watch is android driven itself, but tailored made to suit watch wearers. Samsung Gear Live watch gathers all your information , and uses it for various things like authentication and security . Get messages from your friends, appointment notifications, and weather updates at a just a glance. You'll get notifications from all your existing Android apps on your Samsung Gear Live watch. Samsung Gear Live watch connects your phone to your wrist. At Quintet Solutions we understand this purpose and we can make your apps ready for the Samsung Gear Live.
Samsung gear live is a boon for health and fitness enthusiasts. Our Android Wear developers are developing Samsung Gear Live apps using Android Wear SDK.
Samsung Gear Live Designers at Quintet Solutions
Designing watch faces and other screens are what our designers love doing the most in their free time. Designing apps for wearable devices powered by Android Wear is actually quite different than designing for phones or tablets . Each watch is unique in dimensions and basic shapes. Some may be Square, Rectangle or even Circle. Our designers also keep the user interface, user interaction and user navigation in mind while creating them.
Our designers and developers have already started working and researching on exploiting this market to its maximum. Come to us and let us make you an android wear market's leader with the apps created by our experts. Be the first to have that beautifully handcrafted and powerful app in the android wear market.